S

ekali sekali sarapan gaya barat, hehe... biasa juga sarapan nasi uduk. Tapi muffin ini beneran enak deh, streuselnya bikin muffin jadi crunchy tapi bagian dalamnya tetap lembuuut. Dibawa buat bekal sekolah mas Hafizh, malah bunda gurunya minta dibuatin :).
Resep dari mbak Vania ini jadi andalan banget sekarang, abis bikinnya gampang dan cepat. Persiapannya gak lebih dari 15 menit, cuma modal aduk-aduk aja :), panggang kira-kira 20 menit. Nggak sampai satu jam sudah bisa menikmati muffin hangat.
Fresh berry di resep diganti pake cincangan dark cooking chocolate, hasilnya bagian dalam muffin jadi seperti marble karena lelehan si coklat. Nyam...nyam...
STREUSEL MUFFIN

Recipe from: The Martha Stewart Living Christmas Cookbook
from Vania's blog http://v-recipes.blogspot.vom

Makes 1 dozen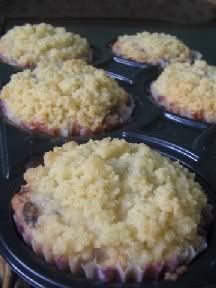 10 tbsp unsalted butter, melted, plus more for tin

1 3/4 cup all-purpose flour
1 tbsp baking powder
1 1/4 tsp ground cinnamon
1/4 tsp salt
1/2 vanilla bean, split lengthwise & scraped (ratih: pake vanila essence)
2/3 cup sugar
2/3 cup milk, room temperature
1 large egg, room temperature
1 1/4 cup mixed fresh berries (ratih: pake DCC cincang kecil)
Streusel Topping (recipe follows)

1. Preheat oven to 400 F. Butter a standard muffin tin. In a large bowl, whisk
together the flour, baking powder, cinnamon, and salt.
2. In a bowl, whisk together butter, vanilla-bean scrapings, sugar, milk, andeggs.
Fold butter mixture and the fruit into flour mixture, using no more than 10 strokes.
3. Spoon 1/4 cup batter into each prepared muffin cup; gently press 2 tbsp
streusel on top of each. Bake until tops are golden, 15-17 minutes. Remove from
oven; let cool in pan 15-50 minutes before transferring to a wire rack.
Serve warm or at room temperature.

Streusel Topping
Makes enough for 12 standard muffins
2/3 cup all-purpose flour
2/3 cup confectioners' sugar
1/4 tsp ground cinnamon

(
ratih: gak pake, takut hafizh gak suka
)


Pinch of salt

5 tbsp unsalted butter, melted

In medium bowl, whisk together flour, sugar, cinnamon, and
salt.
Add melted butter; combine using your fingers, until mixture is crumbly.
Terjemahan:

STREUSEL MUFFIN
Sumber: The Martha
Stewart Living Christmas Cookbook
http://v-recipes.blogspot.com

10 sdm mentega tawar cair
1 3/4 cup tepung terigu serbaguna
1 sdm baking powder
1 1/4 sdm bubuk kayumanis
1/4 sdt garam
1/2 biji vanila, kupas (

ratih: pake vanilla

essense

)
2/3 cup gula
2/3 cup susu cair, suhu ruang
1 telur ukuran besar, suhu ruang
1 1/4 cup buah berry segar (
ratih: pake DCC cincang kecil/coklat chips juga oke
)
Taburan Streusel (resep menyusul)

1. Panaskan oven kira2 180c. Siapkan loyang muffin standar, oles mentega.
Di mangkuk besar, campur/aduk rata terigu, baking powder, kayu manis dan garam.
2. Di wadah lain, aduk rata mentega, vanila, gula, telur dan susu. Campur adonan mentega dan buah ke dalam adonan tepung, aduk dengan tidak lebih dari sepuluh adukan
3. Tuang 1/4cup adonan ke loyang muffin, lalu perlahan letakkan 2 sdm streusel diatasnya. Panggang hingga bagian atas berwarna coklat keemasan, 15-17 menit.Keluarkan dari oven; dinginkan 15-50 menit sebelum dipindahkan ke rak kawat.
Hidangkan hangat atau dalam suhu ruang.

Streusel Topping
cukup untuk 12 muffin standar
2/3 cup terigu serbaguna
2/3 cup gula kastor atau gula halus
1/4 sdm kayumanis bubuk(ratih: gak pake takut hafizh gak suka)
garam secukupnya
5 sdm mentega tawar cair
Campur rata terigu, gula, kayumanis dan garam. Tambahkan mentega cair. Dengan jari, aduk rata adonan hingga berbutir-butir.

ket: pengganti cup, gunakan gelas belimbing
1 cup tepung = 110gr, 1 cup gula = 200gr, 1 cup susu = 250cc
2 previous comments